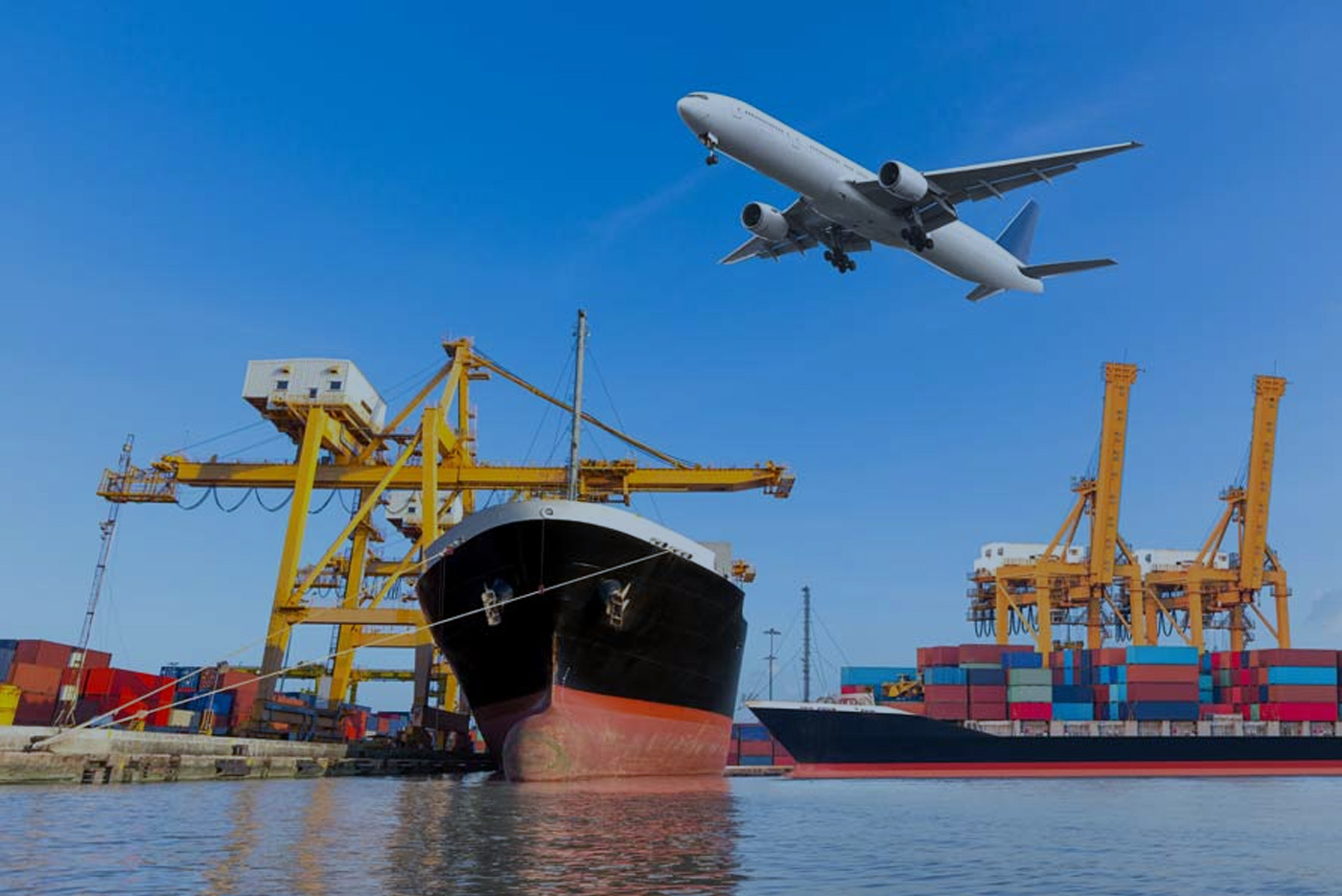 Air Freight vs. Ocean Freight
Exporting goods around the world involves international shipping, and there are two main ways to deliver your orders to overseas customers; air freight and ocean freight. To work out which option is best for your business and customers, you'll need to consider, what you're exporting, the size and weight of the goods you want to ship, and the country they're being sent to, as this is going to have a huge impact on international shipping rates.
Which is Right for Your Cargo? Cost is based on freight characteristics and speed varies greatly by mode.
To help you to make the right decision for your business, we're going to discuss the main differences between air freight and ocean freight, and explain when it's best to use air freight and when you should choose ocean freight for international shipping.
What is air freight?
Air freight, also known as "air cargo", means sending goods by plane. This is the preferred method of transporting goods when exporting overseas to meet a short delivery date. Using a carrier, you can transport small and expensive goods by an air freight company and deliver orders quickly and efficiently. As the fastest way to export goods, air freight is generally the most expensive method for international shipping and is often reserved for expensive, delicate and small packages.
Air freight benefits include:
Fast and reliable international shipping
The ability to send goods almost anywhere in the world
Low insurance premiums when using air freight
A higher level of security and reduced risk of damage and theft in relation to goods
Less packaging required to protect goods while in transit
The ability to track the status of your cargo throughout its journey
It should be noted that air freight is different from "air courier shipping". Air courier shipping, also referred to as "air express", is a door-to-door solution designed for smaller parcels and lighter packages, and is handled by the courier such as Sure Air, DHL, UPS, FedEx, etc.
What is ocean freight?
Ocean freight involves shipping goods around the world by sea using a specialist company and a cargo ship. Packages are usually secured in large shipping containers and a freight forwarder books a whole container or a certain amount of space on a cargo ship traveling to your delivery destination. It often takes longer to send goods by sea, compared to air freight, but it is also more affordable and a better option if you're sending heavy and bulky items or goods in a large volume.
Exporting goods by ocean freight will also mean the shipment passing through customs at the point of origin and again when they reach their end destination or final port. Once duties and taxes are paid on the goods, the products will be released for onward delivery.
Ocean Freight benefits include:
Best for heavy goods and international shipping
More affordable than air freight so ideal for small to medium-sized businesses
Preferred for high-volume orders due to cargo ship capacity
How to choose which freight is best for you
If you're trading internationally and you need to export goods overseas, you'll need to choose how you want to deliver your goods and fulfil your overseas orders. To make the right decision for your business, you will need to consider a number of factors.
Cost of exporting internationally
Air freight might be more efficient and safer, but it is also more expensive when compared to exporting goods by ocean freight. To make the right decision for your business, you should consider the volume of the order you plan to export, the weight of the goods including the packaging and total value of the shipment. The price to export goods is calculated by the size, weight and type of goods you're exporting overseas and your industry. So most small to medium-sized businesses delivering bulk orders, choosing ocean freight over air freight is often better financially.
However, if you have high-value, low volume and low weight order, you might want to consider air freight in order to protect valuable items and offer a faster international delivery service.
Time and speed
As we've just mentioned, air freight is the fastest method to send items overseas, so if your order is time-sensitive, you should recommend air freight to your buyer and explain the additional fees to send goods quickly. If time and speed is not a concern for your customer, it will be far better in terms of price to choose ocean freight.
Typically, goods can reach their final destination with 48 hours by plane, but by sea, an order could take several weeks to arrive. It's also important to make your buyers fully aware of your shipping options and any associated fees and potential delays when it comes to international delivery. Customers appreciate transparency and if your order details include shipping and delivery information, there will be no room for miscommunication.
Reliability
In business, reliability is important for both the exporter and the buyer. You should consider how reliable the freight company is that you're thinking of working with before placing an order with them. Delays, problems with customs, and lost goods can be a nightmare for companies trying to ship goods overseas, and may even cause disputes, cancellations, and bad reviews from your customers. To avoid issues in the future when shipping internationally, make sure the freight company is reliable and experienced.
You should also note that air freight is considered far more reliable than ocean freight since weather and unexpected factors can often delay and disrupt cargo ships, while aircraft carriers strive to be consistently on time. If an aircraft does suffer a delay, since there are often a number of flights taking place during a 24-hour period, businesses will often have the option to send their goods on a later flight, without causing a significant delay to the order.
Environmental impact of international shipping
You should also consider how the method of transport you choose to ship goods overseas will impact the environment. Becoming more eco-friendly as a business will not only help you to save the planet and reduce waste, but you'll also be able to attract more customers who value green and eco-friendly companies. Ocean freight has far lower CO2 emissions than air, but with oil spills associated with cargo ships and their significant impact on delicate ecosystems, you should weigh up the pros and cons of each before making your final decision.
When air freight is a good option
To sum up, air freight is a good option if you're shipping high-value goods in small quantities and your order is time-sensitive. If you're exporting electronics, clothing, pharmaceuticals, high-value jewelry, or sending a sample order to a customer, for example, air freight might well be the best method of exporting your goods overseas.
The average air freight shipment takes anywhere from a few days to 1~2 weeks, compared to 20~60 days for ocean shipping, but can cost 3 times as much and sometimes even more.
When to use ocean freight
However, if you're a small to the medium-sized business concerned about the expense of international shipping, you might want to consider ocean freight over air cargo, as it's often more affordable. If your shipment is heavy, bulky or you have a high-volume of goods, ocean freight will likely be the best option. This is also a worthwhile solution if you have a flexible delivery date, and your customer is in no rush to receive the goods.
According to the National Bureau of Statistics and Alibaba.com internal data, ocean freight accounts for around 75% of cross-border shipping and is the main mode of transportation in global trade.
What could affect air freight & ocean freight rates?
When it comes to international shipping price, the rates of air freight and ocean freight will depend on a number of things:
The size of your shipment or packages
The chargeable weight of the goods you plan to send, including the packaging
The industry you're in and the type of items you're shipping (If they're delicate, dangerous, hazardous, perishable etc.)
Economic implications such as Covid-19 which may be causing delays and unforeseen expenses for international exports.
Whether you're purchasing insurance for your cargo or not
Where you're exporting goods from, and the end destination for your order
As a seller, it's important that you consider your international shipping strategy and the expenses associated with sending goods abroad so that you can factor this into your pricing structure. Without careful consideration, you might end up selling goods without being able to fulfill your orders. Get international shipping and price point right and you'll have everything you need to start selling goods on a global scale.
Source: https://seller.alibaba.com/businessblogs/pxvupal8-air-freight-vs-ocean-freight-how-to-choose